Hello Everyone!
Here's our September Water / Wastewater Market Monthly Roundup featuring this month's top news, data stories and drivers. We hope you'll enjoy the blog :)
Monthly Water Story: Sam Sells to Water Systems
This month we'll share the story of Sam, who sells to U.S. Water Systems. Sam wants to understand what makes them tick from a financial standpoint, to align his/her sales and support strategy to their needs. We will be looking at two areas of interest; Fiscal Year Planning and Comprehensive Annual Financial Report (CAFR).
In this story, we have selected a sample size of around 850 U.S Community Water Systems. These water systems have the capacity to serve a population of 50,000 people or more. Cumulatively, they serve a population of over 150 Million people equating to ~50 Million service connections.
Fiscal Year Planning
Sam is going to meet with a VIP account. For Sam, it is important to understand this organization's fiscal year planning cycle.
A fiscal year is the accounting, rather than calendar year. It helps organizations, governments, utilities, etc. in tracking and recording financial information. In the water utility industry, it is critical to understand the importance of fiscal year starting/ending months.
If you know when the government utilities' fiscal year ends, you can better assess the projects, market outlook and perceive actionable information in terms of financing and investing in utility projects. Most of the planned financing decisions for such projects takes place once a year.
What if Sam's timing is off? The audience may be impressed with the proposal, but Sam will be unable to move forward because the fiscal year is ending in less than a month. All Sam gets is appreciation and acknowledgement for the potential idea, but no order acceptance.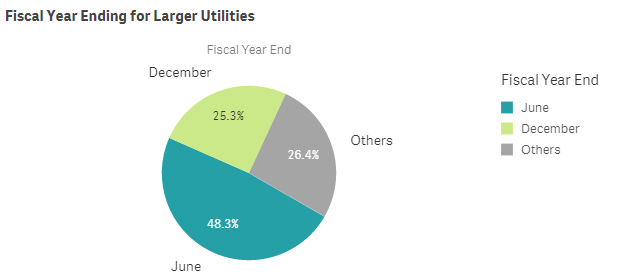 Sam could know, with a little bit of effort. In this chart, we see the fiscal year ending months for larger utilities, responsible for covering population of 50,000 and above, from a sample size of around 850 U.S Community water systems. It is interesting and important to note that nearly 50% of fiscal years end in June, about 25% in December, and the remainder are spread across the other 10 months.
Sam gets a much happier outcome by visiting at the right time, to get the plan in place before fiscal year planning is over.
Audited Financial Reports
Now let's talk about Sam and CAFRs.
In the context of water and wastewater utilities, a Comprehensive Annual Financial Report (CAFR) is a set of financial statements complying with Governmental Accounting Standards Board (GASB) account requirements.
The statements can provide useful insights for organizations serving the water utility industry. Based on our previously mentioned sample data set of ~850 community water systems, we see the following results for the Top 5 regions looking at water organization revenue and expenses.

These numbers are a bit too high-level for Sam, but indicative of what you can see at a regional level for the nation's largest utilities. Naturally, we've developed these numbers by pouring over 100,000s of pages from 1000s of financial statements.
By understanding CAFRs, the wealth of data they contain and what they tell you about a utility's financial health, Sam can be more of a trusted advisor to the utility. Sam will know how to successfully present ideas, and whether they contribute to adding revenue, reducing expenses, or both.
Why FirmoGraphs?
In any given industry, attention to industry drivers is imperative. Without understanding the customer's motivation, you may miss out on opportunities like our friend Sam. This is particularly the case in a heavily-regulated industries subject to long-term financial planning such as water and wastewater.
FirmoGraphs curates 1000s of publicly available documents to extract relevant information to help you approach your customer in the most-effective manner. This continuous act of gathering, filtering, and refining data is what we do so that you don't need to.
Our ready-to-use information, delivered inside of powerful and flexible business intelligence tools, allows you to focus on what you do best...developing strong relationships through the delivery of excellent solutions.
Industry Drivers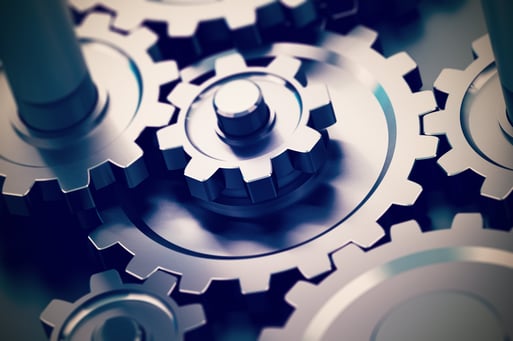 Driver: WOTUS, the Obama-Era Clean Water Rule Repealed By Trump Administration
The U.S. Environmental Protection Agency (EPA) and the U.S. Army Corps of Engineers on Sept. 12, 2019, finalized a repeal of the Obama-era Waters of the United States (WOTUS) regulation, also known as the Clean Water Rule, that that spells out protections for large and small bodies of water. The Clean Water Rule was enacted in 2015. The new rule reverts standards back to the 1986 guidelines under the Clean Water Act.
This will have wide-ranging implications.
For additional information see:
Driver: Michigan Gov. Gretchen Whitmer and 14 US State Governors lobby to influence Congress for provisions that would establish strong national regulations on PFAS, in Defense Bill.
The four Republican and 11 Democrat governors signed a letter on Sept. 18, urging the U.S. Senate and House Armed Services Committees to include multiple PFAS-related provisions in the final version of the National Defense Authorization Act (NDAA) for fiscal year 2020.
The differences in House and Senate versions of the legislation are being reconciled. This legislation sets the annual budget and expenditures for the U.S. Department of Defense.
For additional information see:
Monthly Alert: Multiple News Outlets Report Worsening effects of climate change.
If you are reading this, you know that there is an inextricable link between water utility operations and the weather. The United Nations 'Special Report on the Ocean and Cryosphere in a Changing Climate' anticipates a global climate crisis due to the unexpected fast melt-down of arctic ice, resulting in stronger storms, longer droughts and a disturbing increase in the marine heat waves.
The Summary for Policymakers is a good place to start in digesting the report at 45 pages. For those with a strong constitution and an appreciation of the details, the full report comes in at ~1200 plus supporting documents.
For additional information see:
https://www.ipcc.ch/srocc/home/
Notable M&A Aug. - Sept. 2019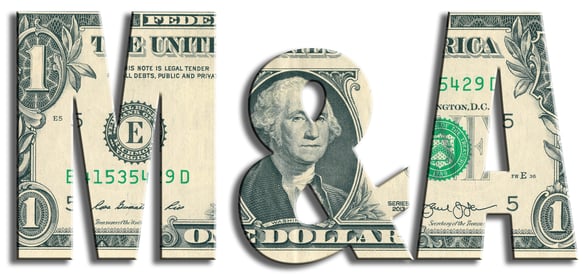 As per FirmoGraphs' records, the following M&A transactions in the Water & Wastewater Industry, stand out in the months of August and September:
West Virginia American Water completed its acquisition of the Boone-Raleigh Public Service District (PSD) water distribution system on August 08, 2019. Boone-Raleigh PSD had been struggling to provide adequate investments into the water system without significantly increasing customer rates.
Valicor, one of North America's largest providers of non-hazardous wastewater treatment services, acquired Action Environmental providers of non-hazardous wastewater treatment services, on August 21, thus expanding its leading network of wastewater processing facilities.
On August 30, California American Water, a subsidiary of American Water, entered into an agreement to purchase Bass Lake Water Company's (BLWC) potable water distribution system. BLWC serves approximately 1,000 customer connections in the Bass Lake community.
On September 17, Aqua America's Pennsylvania Subsidiary, Aqua Pennsylvania Wastewater entered into an agreement with DELCORA to Purchase Municipal Wastewater System Serving Approximately 500,000 People, for $276.5 million. The pending transaction is subject to Pennsylvania Public Utility Commission approval.
Valicor Environmental Services acquired Strength Environmental, on September 17. Due to this acquisition Valicor's service offering has extended into the Michigan market. Also, this acquisition has increased Valicor's wastewater treatment plants from five to 14 in just over 2 years.
Meeting Planner
In this over-digitized age, there is no replacement for face-to-face meetings with your prospects and customers! We track meetings of interest to our customers serving the US power generation and supply industry so you won't miss upcoming meetings and deadlines.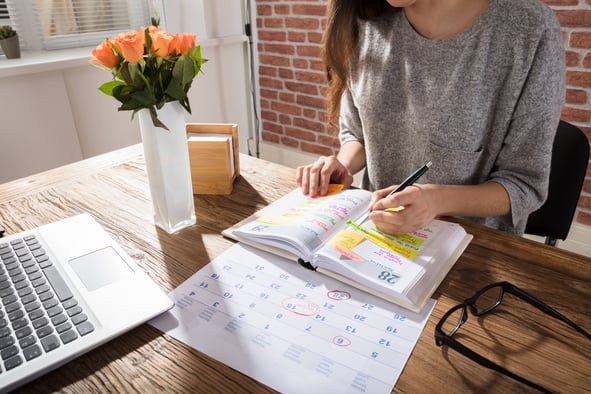 Meetings in October, 2019
WaterSmart Innovations Conference and Exposition - Oct. 2 to 3, 2019, Las Vegas, Nevada, https://www.watersmartinnovations.com/
AWWA Water Infrastructure Conference & Exposition - Oct. 20 to 23, 2019, St. Louis, Missouri, https://www.awwa.org/Events-Education/Water-Infrastructure
CA-NV AWWA Annual Fall Conference - Oct. 21 to 24, 2019, San Diego, California, https://ca-nv-awwa.org/afc2019
Early Bird Registration Deadlines
Event: AWWA Water Quality Technology Conference
- URL: https://www.awwa.org/Events-Education/Water-Quality-Technology#677731-expo
- Dates: Nov. 03 to 7, 2019,
- Location: Dallas, Texas
- Date Early Registration: Oct. 3, 2019
Call for Papers Deadlines in October, 2019
Event: IN AWWA Annual Conference - 2020
- Association: American Water Works Association, Indiana Section
- URL: https://www.inawwa.org/event/2020-annual-conference/
- Dates: From January 27 to January 30, 2020
- Location: Indianapolis, Indiana
- Call for Papers Deadline: September 20, 2019
Our favored BI solution, Qlik Sense™ Enterprise, makes mashing-up multiple data sets fun and easy. Our customers find new opportunities to grow revenue, and reduce risk, by combining the Water Mart with their own proprietary CRM and market data.
Disclaimer
None of the information we provide may be taken as legal advice. Please consult an attorney if you require a legal interpretation of this information.

Any information contained on this website or within any attachments is offered without representation or warranty as to its accuracy or completeness and FirmoGraphs, LLC cannot be held responsible for loss or damage caused by errors, omission, misprints or your misinterpretation of such information. Seek competent professional advice prior to relying on or utilizing such information in any manner as any such use is at your own risk.