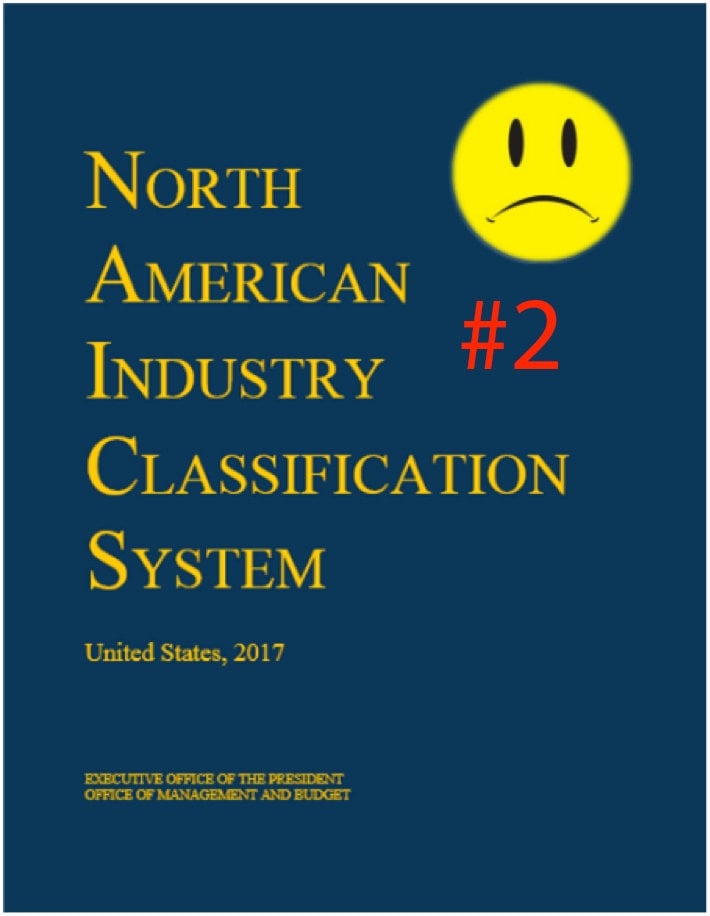 This is the Part 2 of a 2-Part blog about industrial codes that apply to US organizations, and their importance to organizations that sell and market to US industry.
Last time, we covered the basic of the The Standard Industrial Classification code system (SIC system), and The NAICS North American Industry Classification code system (NAICS system).It was riveting.If you missed it, click here !
So what?
Besides providing a structural framework, organization and coherence in our large and multifaceted economy, industry codes can be utilized in:Understanding a company's business footprint, including facility type, size, activities and health, environment and safety aspects;
Finding businesses to sell to and/or partner with; and

Determining eligibility for government contracts
You, a business leader, should care because these codes help you find your customers.Furthermore, once you find them, understanding the diversity of their businesses can help you deliver all of the goods and services they need.
Further Decoding the Codes
A common discussion point is whether you can simply "translate" SIC to NAICS, or visa versa.The reason is that the ways codes are applied varies between the two systems, whereas the SIC system focused on end products produced, theNAICS system focuses on production systems.
Once again... SIC deals with what you made . NAICS with how you are making it .An easy way to tell the difference is that NAICS descriptions end in "ing", manufacturing, building, stamping, etc.
Everyone Loves their Cars
One instructive example are codes associated with vehicular industries (cars, trucks, RVs).The NAICS codes are, in our opinion, more useful for companies providing services and materials in most cases.The process is more interesting than the product, if you are offering consulting and engineering services related to operational excellence.This can also be said if you are selling durable and consumable equipment to Automotive Industry facilities.
Here are the primary SIC and NAICS codes and descriptions applying to this market.
SIC - What is being made.

2396 Automotive and Apparel Trimmings

5012 Automobiles And Other Motor Vehicles

3465 Automotive Stampings

3711 Motor Vehicles And Car Bodies

3714 Motor Vehicle Parts And Accessories

5013 Motor Vehicle Supplies And New Parts

3592 Carburetors, Pistons, Rings, Valves

3593 Fluid Power Cylinders And Actuators

3594 Fluid Power Pumps And Motors
NAICS - How it is made.

33611 Automobile and Light Duty Motor Vehicle Manufacturing

336111 Automobile Manufacturing

336112 Light Truck and Utility Vehicle Manufacturing

336120 Heavy Duty Truck Manufacturing

33621 Motor Vehicle Body and Trailer Manufacturing

336211 Motor Vehicle Body Manufacturing

336212 Truck Trailer Manufacturing

336213 Motor Home Manufacturing

336214 Travel Trailer and Camper Manufacturing

336310 Motor Vehicle Gasoline Engine and Engine Parts Manufacturing

336320 Motor Vehicle Electrical and Electronic Equipment Manufacturing

336330 Motor Vehicle Steering and Susp. Components Manufacturing

336340 Motor Vehicle Brake System Manufacturing

336350 Motor Vehicle Transmission and Power Train Parts Manufacturing

336360 Motor Vehicle Seating and Interior Trim Manufacturing

336370 Motor Vehicle Metal Stamping

336390 Other Motor Vehicle Parts Manufacturing
In our near future, will the codes change with driverless vehicles?How about businesses offering those services?Will we still say "everyone loves their cars" in 10 years?I digress.Back to the example.
NAICS and the Environmental Regulatory Footprint.Waste Example.
We've analyzed regulatory applicability data, as indicated by industrial sites holding permits, for the US.This yields interesting (if you are an environmental industrial data geek) results, in terms of the most-popular environmental regulatory aspects at US sites.
The following chart shows for the motor vehicle (and components) manufacturing industries, an approximate count of US sites per aspect, focused on the RCRA hazardous waste program.These are generator status based on the amount of hazardous waste produced per site.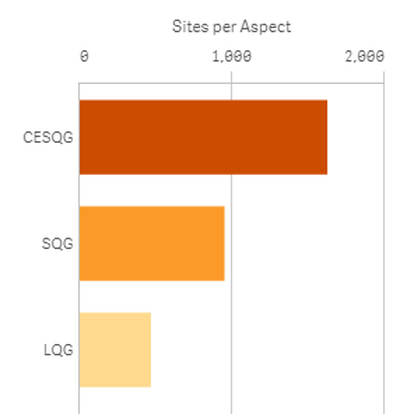 From this simple use of site NAICS codes, you can glean some interesting information:
Operational details of the site- business type, general size, etc.

At any given time, if you talk to a site in this set of NAICS codes, it is more-likely to be a CESQG (conditionally exempt small quantity generator) of waste, than a SQG (small quantity generator) or LQG (large quantity generator).

If you want to offer goods / services sites LQG sites in the US, in this industry, there are probably around 400 - 600 prospects at any time.
Hazardous waste reduction is an important Operational Excellence (OE) measure for any industrial location, and vehicular industry manufacturing sites have certainly focused on this over the past decades.
Filtering on just the LQG sites, the top 10 regions to consider for marketing related services would be: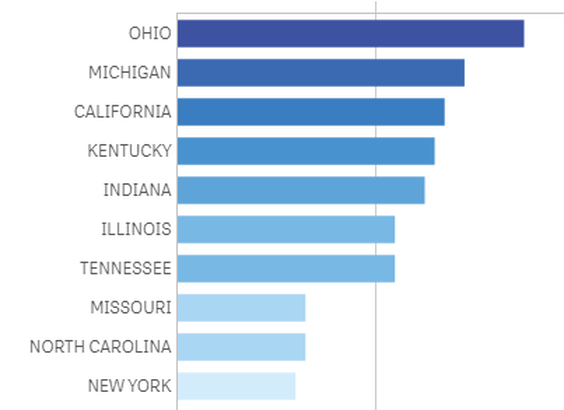 As a strategic, data-driven executive, this information can drive many decisions, such as:
What markets do I prioritize?

How much of our addressable market have we captured?

Where do I locate delivery resources?

How can we best deploy our sales and marketing organization?
Wrapping Up
In this blog, we've spanned the mundane (US industry codes) and the fascinating (making critical business decisions using codes to drive insight.
To end on a fun note, please see the following.
If you are a code nerd, and proud to be one, I'd be happy to add your ideas to this table.