Hello everyone!
If you deliver services or goods to North American industry, it is a good idea to watch North American M&A trends. There is nothing worse than being surprised when a favorite client buys (or sells) assets, and you miss an opportunity to support them!
FirmoGraphs is back with more transactions from January. We recorded 153 completed transactions in 14 different industries related to the North American market. As always, our focus is on those operationally-intensive industries (utilities, manufacturing) rather than less asset-intensive markets (retail, banking).
Utilities
In the utilities sector there were less than 10 transactions in the month of January. The Dominion Energy and SCANA Corporation's $6.8 billion worth merger, termed as one of the biggest transactions in January, 2019, was one of those 10 transactions.
It's worth mentioning that Hydro One and Avista Corp terminated their $5.02 billion worth merger in the same month, due to denied approval by two regulatory bodies.
Oil Industry
In January 2019, fourteen transactions in total were completed in the oil industry. The $358 million worth Par Pacific's acquisition of U.S. Oil & Refining Co. stands out in terms of deal value. It's worth mentioning that Canadian oil producer Husky Energy ended its efforts to acquire MEG Energy, as a result of lack of MEG board and shareholder support and new production limitations by the Alberta government.
Mining Industry
FirmoGraphs recorded one notable transaction in the mining sector - the $176 million worth acquisition of AllDale by Alliance Resource Partners. Some other large transactions are coming up in the following months. These transactions include $1.07 billion worth Pan American Silver Corp's acquisition of Tahoe Resources.
Engineered Products
Engineered products industry was very active, with 36 completed transactions in the month of January. Some of those were very significant. Energizer Holdings acquired Spectrum Brands' battery and portable lighting and global auto care businesses for a total amount of $2.94 billion. Also, Leggett & Platt purchased Elite Comfort Solutions for $1.25 billion.
Healthcare
In the healthcare industry, there were two noticeable transactions in terms of deal value. The first one was the $1.74 billion worth merger between Federal Street Acquisition Corp. and Agiliti Health, Inc. The second one was $1.5 billion worth acquisition of Synagis medicine rights by Swedish Sobi, in the US. Generex Biotechnology Corporation and IMS Health's increased activity should also be noted, with four new acquisitions - two for each company.
Other industries
The biggest transaction in January, 2019, occurred in the forest products industry when Suzano Pulp & Paper merged with Forest Products in a deal worth $7.45 billion.
Interesting transactions were seen in the chemicals industry as well, where KKR acquired LCY Chemicals for $1.56 billion.
Largest Transactions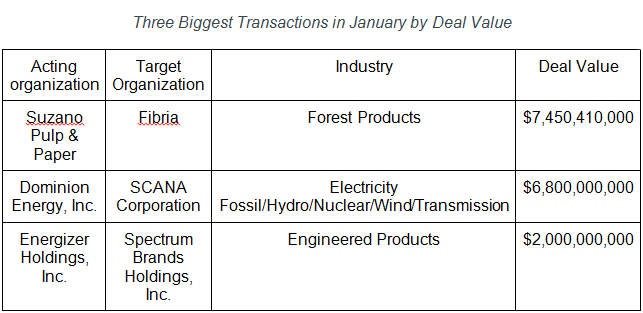 Total Completed Transactions
With 48 completed transactions, healthcare was the most active industry in January, 2019. The engineered products and oil industries were next in row.
Announced Future Deals
In addition to completed transactions, FirmoGraphs recorded 50+ announced future deals. Some of those are expected to be very significant after they're completed and are listed below:
Bristol-Myers Squibb Company and Celgene Corporation announced $74 billion worth merger - the biggest pharmaceutical deal ever.

Eli Lilly and Company announced another big healthcare transaction - the acquisition of Loxo Oncology for $8.0 billion.

Newmont Mining and Goldcorp announced $10 billion worth transaction in order to create an unmatched gold company.

There were multibillion-dollar transactions' announcements in chemical, oil and industrial services industries, coming up in the next few months.
Conclusion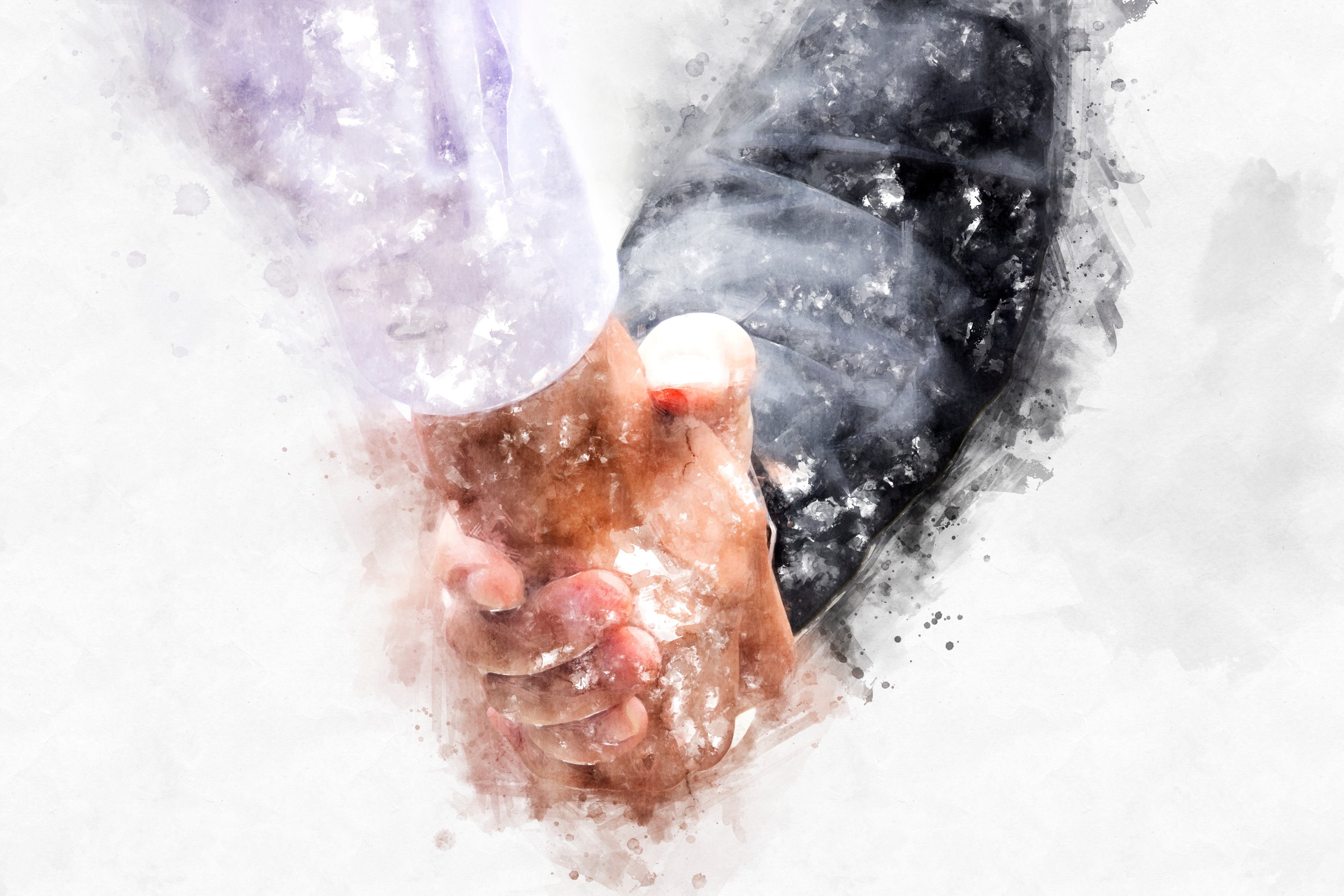 FirmoGraphs watches North American industrial news and curates a normalized version of monthly merger and acquisition information. This way, you can leverage the Merger Mart along with others (such as Power, Water) to generate your own unique observations for the US industrial market.
Our favored BI solution, Qlik Sense™ Enterprise, makes mashing-up multiple data sets fun and easy. Our customers find new opportunities to grow revenue, and reduce risk, by combining the Merger Mart with their own proprietary CRM and market data.
Having a good understanding of customer M&A activities can be key to the health of your business. Click here to learn more.
Click here to learn more about applying BI to your approach in the North American merger and acquisition tracking in the US utility.
Click below to download our E-Book on 5 Critical Actions you can take to make your marketing more insight-driven, using Business Intelligence.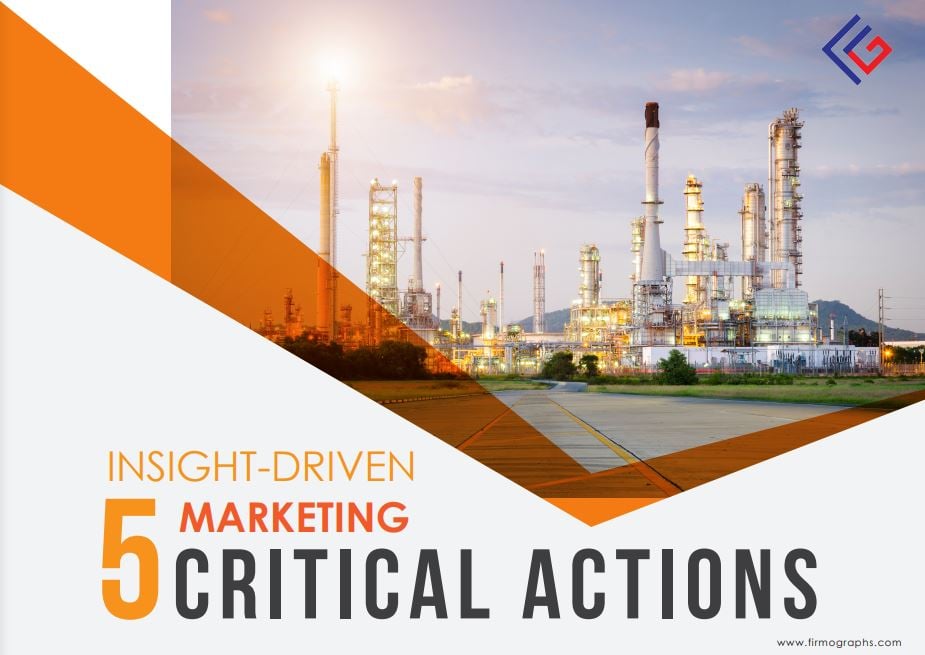 You might also want to read our blogs FirmoGraphs North American Merger and Acquisition (M&A) Report, December 2018, FirmoGraphs North American Merger and Acquisition (M&A) Report, November 2018, and M&A Data: Applying BI for Better Customer Relationships.
Disclaimer
None of the information we provide may be taken as legal advice. Please consult an attorney if you require a legal interpretation of this information.

Any information contained on this website or within any attachments is offered without representation or warranty as to its accuracy or completeness and FirmoGraphs, LLC cannot be held responsible for loss or damage caused by errors, omission, misprints or your misinterpretation of such information. Seek competent professional advice prior to relying on or utilizing such information in any manner as any such use is at your own risk.