Dear Readers
Here's our M&A report for the month of December. We'll look forward to your feedback about this blog, in the form of your comments.
FirmoGraphs recorded a similar level of activity in December as in November, with 70 completed transactions related to the North American market in 13 different industries.
The most active industry was the oil and gas industry, with 14 completed transactions, followed by healthcare and engineered products industries, with 12 completed deals, respectively. As always, our focus is on those operationally-intensive industries that are of interest to our clients (utilities, manufacturing) rather than less asset-intensive markets (retail, banking).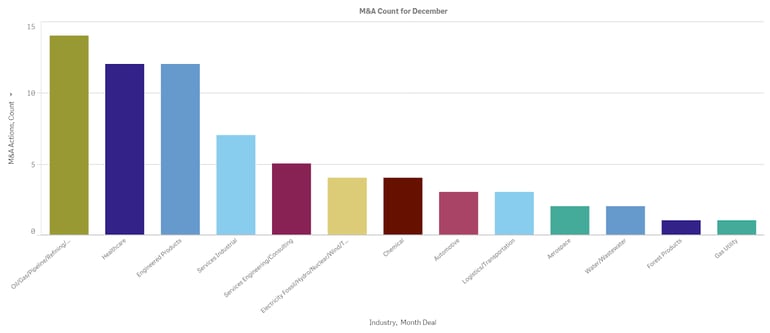 Utilities
There were seven completed transactions in the utility industry in December. Those deals were related to electricity, water, and gas sectors. The biggest one was Clearway Energy's acquisition of Carlsbad Energy Center from Global Infrastructure Partners III for $184 million.
Oil & Gas Industry
December was an important month for the oil and gas industry. It was the most active industry in December, both in terms of the number of completed deals and the value of transactions. There were some huge deals among 14 completed transactions. The two biggest M&A transactions in December occurred in the oil and gas industry. Hess Midstream Partners acquired Hess Infrastructure Partners in $7.25 billion worth transaction in order to simplify its structure, while Energy Transfer and SemGroup completed their $5.0 billion worth merger. Additionally, Kinder Morgan exited the Canadian market with $2.5 billion worth sale of assets. Last but not least, Callon Petroleum Company completed the acquisition of Carrizo Oil & Gas for around $2.4 billion.
Engineered Products
FirmoGraphs recorded a similar level of activity in the engineered products industry in December as in the previous month, with 12 completed transactions. A few of these deals were huge. Intel acquired Habana Labs for $2.0 billion. Also, NXP Semiconductors acquired Marvell's wireless connectivity assets for $1.76 billion, while Hitachi completed the acquisition of JR Automation Technologies' the robotic SI business for $1.425 billion.
Healthcare
December was one of the rare months when healthcare wasn't one of the two most active industries. But that doesn't mean there wasn't anything significant in this industry. Roche and Spark Therapeutics finally completed their $4.3 billion worth merger. Additionally, Roche acquired rights for Sarepta Therapeutics' investigational drug outside the United States for $1.15 billion. These transactions significantly increased Roche's presence in the gene therapy field.
Other industries
There weren't any significant transaction in other sectors covered by FirmoGraphs.
Largest Transactions in December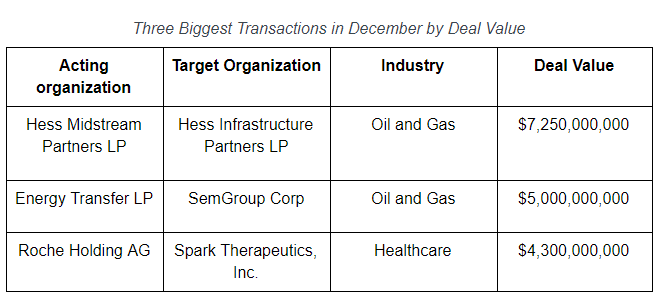 2019 Retrospective
We saw many interesting deals in 2019. FirmoGraphs recorded almost 1200 completed M&A deals in the last 12 months. Among 16 different industries that FirmoGraphs covers, engineered products, and healthcare industries were the most prominent in terms of the number of completed deals.
Healthcare proved to be an industry with some of the biggest deals. Three out of the five biggest transactions completed in 2019 occurred in the healthcare industry, including the largest one. Bristol-Myers Squibb and Celgene completed their $74.0 billion business combination, one of the biggest pharmaceutical deals in history. As a part of this deal, Celgene sold worldwide rights to Otezla to Amgen for $13.4 billion. Pfizer's $11.4 billion acquisition of Array BioPharma is also worth mentioning. Besides completed transactions, there are some huge deals that were announced in 2019 but are still incomplete. For example, AbbVie will acquire Allergan in a $63.0 billion deal. These huge pharmaceutical deals are the result of pharma companies' efforts to combine their capabilities in certain expanding areas of business, such as cancer treatment and immunology.
M&A deals in the oil and gas industry reached the highest combined value in recent years. This milestone was reached thanks to one major deal. Occidental Petroleum Corporation acquired Anadarko Petroleum in a deal worth around $55.0 billion. Although Anadarko initially signed an agreement with Chevron, Occidental outbid Chevron and completed the deal.
Logistics was one of the sectors with some major deals in 2019. The e-commerce boom is increasing demand for logistic services, pushing some major players like Blackstone and Prologis into multi-billion dollars worth acquisitions of logistics assets. These two companies bought more than $30.0 billion worth warehouses during the last 12 months and there is no sign of stopping. Blackstone already announced the new multi-billion purchase in 2020.
The mining industry was also a playground for some major players in 2019. It was especially interesting in the gold sector, led by a combination of Newmont Mining and Goldcorp in a $10.0 billion transaction.
When it comes to utilities, M&A activity had a steady pace in 2019, as it had at the end of 2018. In the water/wastewater segment, American Water continued its expansion through acquisitions by its regional sections. The largest water-related transaction in 2019 was the $1.1 billion merger between SJW Group and Connecticut Water. In the electricity/power industry, there were a few transactions worth more than $1.0 billion. The largest was the $6.8 billion merger between Dominion Energy and SCANA Corporation.
Announced Future Deals
In addition to completed transactions, FirmoGraphs recorded over 40 announced future deals just in the month of December. Some of those are expected to be very significant after they're concluded and are listed below:
Blackstone Infrastructure Partners' $6.3 billion worth acquisition of Tallgrass Energy;
Apergy Corp's $3.9 billion worth acquisition of Ecolab's upstream energy business;
Astellas Pharma's $3.0 billion purchase of Audentes Therapeutics.
In terms of M&A activity, the oil and gas industry will undoubtedly keep moving forward at the same pace in the year 2020, as it has during the last few months. Considering the deals announced in all industries in the previous months of the year 2019, we can expect 2020 to be very interesting.
Merger Humor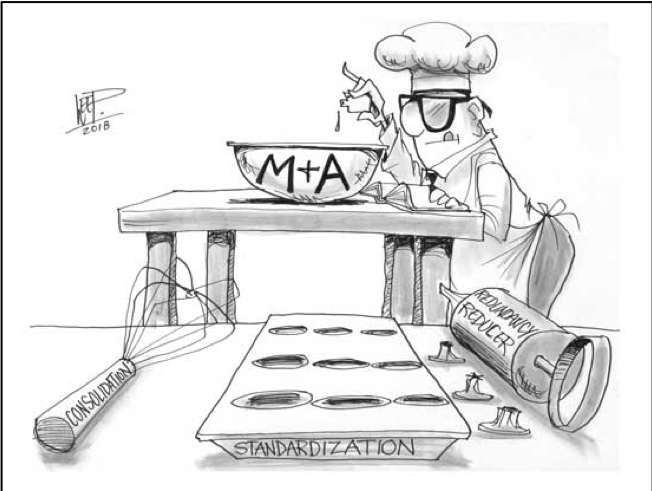 Conclusion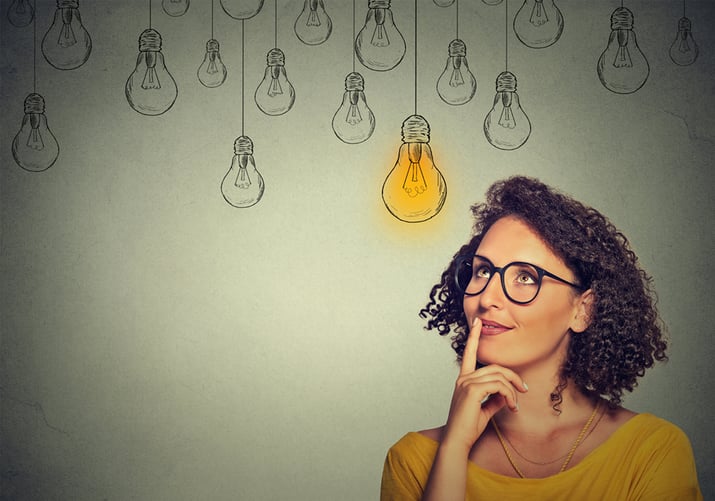 FirmoGraphs watches North American industrial news and curates a normalized version of monthly merger and acquisition information. This way, you can leverage the Merger Mart along with others (such as Power, Water) to generate your own unique observations for the US industrial market.
Our favored BI solution, Qlik Sense™ Enterprise, makes mashing-up multiple data sets fun and easy. Our customers find new opportunities to grow revenue, and reduce risk, by combining the Merger Mart with their own proprietary CRM and market data.
Having a good understanding of customer M&A activities can be key to the health of your business. Click here to learn more.
Wish to learn more about applying BI to your approach in the North American merger and acquisition tracking in the US utility? Please click here.
Click below to download our e-Book on 5 Critical Actions for an insight-driven marketing using Business Intelligence.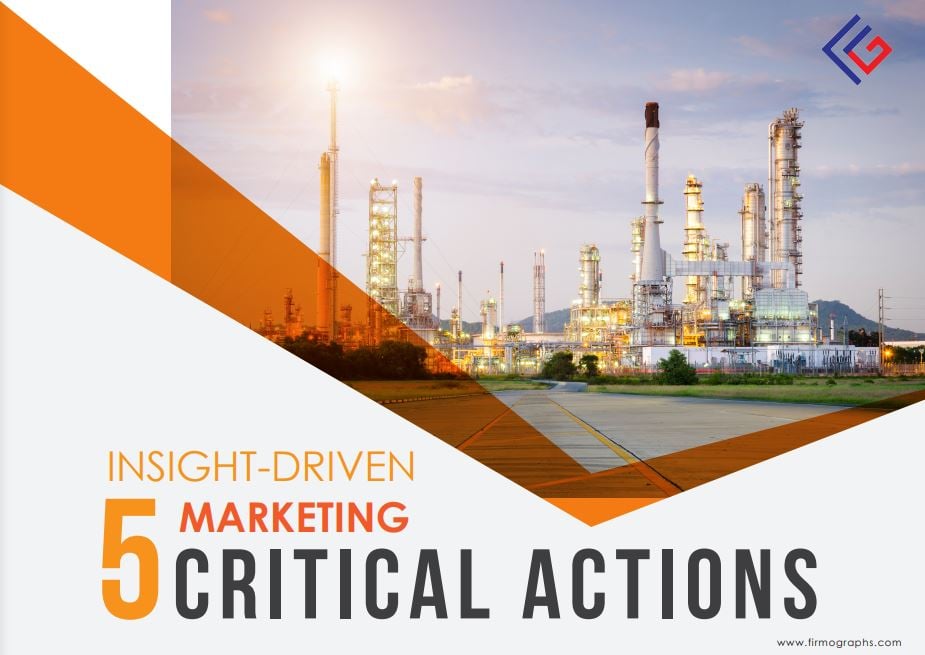 Disclaimer
None of the information we provide may be taken as legal advice. Please consult an attorney if you require a legal interpretation of this information.

Any information contained on this website or within any attachments is offered without representation or warranty as to its accuracy or completeness and FirmoGraphs, LLC cannot be held responsible for loss or damage caused by errors, omission, misprints or your misinterpretation of such information. Seek competent professional advice prior to relying on or utilizing such information in any manner as any such use is at your own risk.