Hello everyone!
For those of you interested in North American M&A trends, we were tracking transactions in December too. We recorded 118 completed transactions in 15 different industries.
Completed Transactions
Even after the exclusion of a large number of cannabis-related transactions, healthcare again was the most active industry in our focus. Twenty four transactions were completed In total, in this industry during Dec. 2018.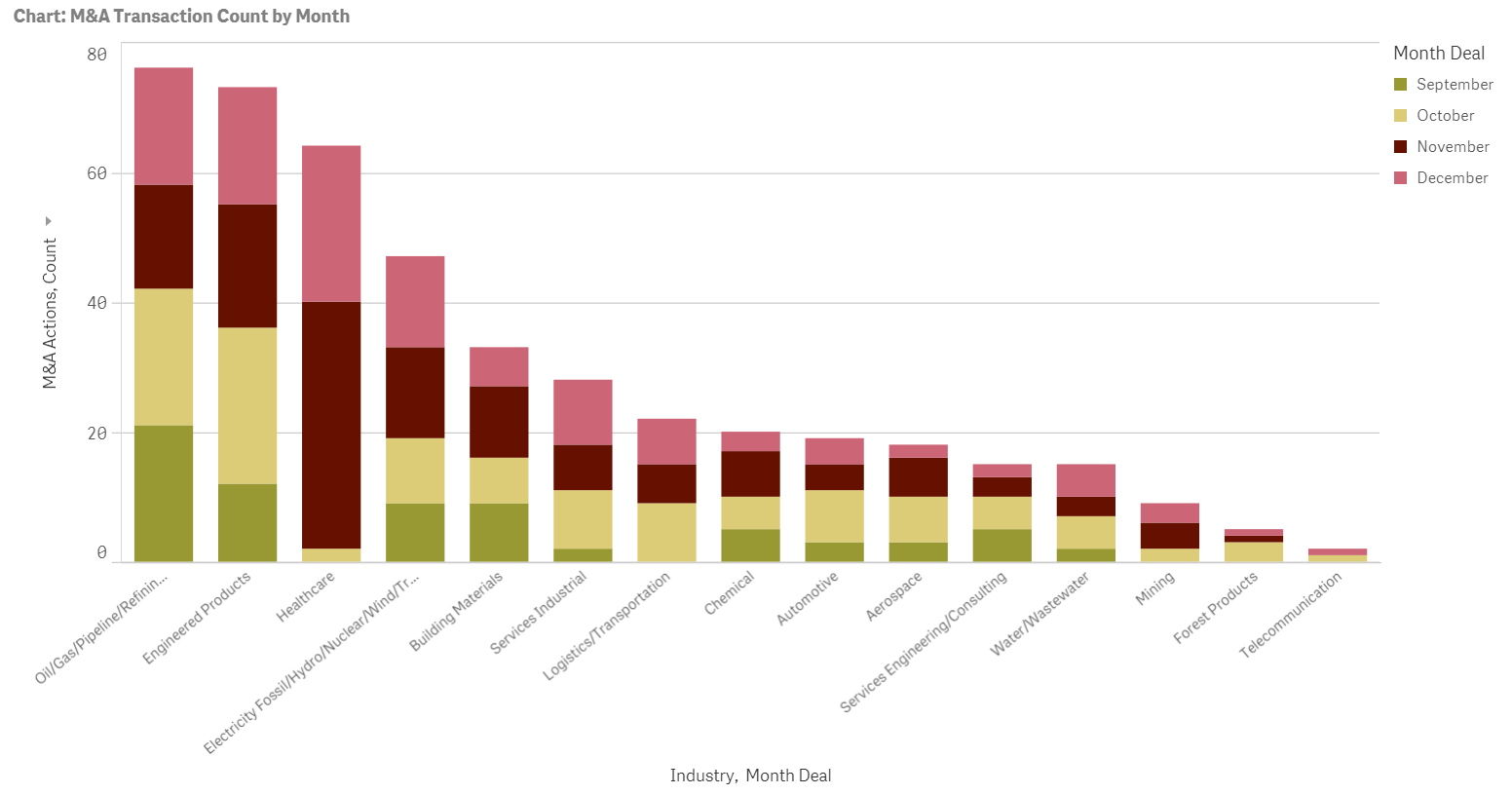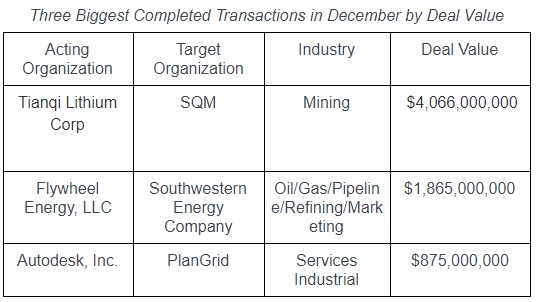 Healthcare
In the Healthcare business, Boston Scientific's $325 million worth acquisition of Millipede was the main transaction in Dec. 2018. It should also be noted that CVS Health acquisition of Aetna, the largest Healthcare M&A transaction FirmoGraphs has ever recorded, reached a big obstacle during Dec. 2018. Although that transaction was completed in November and approved by the U.S Justice Department, one of the federal judges hasn't approved the transaction as of yet. CVS had to defend its actions before the judges, and it's still not clear about the future outcome.
Oil Industry
The oil industry and the engineered products industry were as active in Dec. 18, as they were in the previous months. Although FirmoGraphs recorded 18 completed transactions in the oil industry in December, only one stands out in its value - Flywheel Energy's $1.865 billion acquisition of Southwestern Energy Company. It's worth mentioning that a previously announced deal between Earthstone Energy and Sabalo Energy was canceled, reportedly due to negative market trends.
Mining Industry
Mining industry was one of the least active industries in Dec. 2018, in terms of number of transactions. However the highest deal value transaction occurred in this industry when China's Tianqi Lithium Corp purchased a minority stake in Chilean lithium miner SQM from Canadian Nutrien for $4.066 billion.
Utilities
The only thing worth mentioning in terms of utilities, is the filing of a petition by Hydro One and Avista after Washington Utilities and Transportation Commission rejected their $5.02 billion worth merger.
Other industries
In terms of industrial services. Autodesk's acquisition of PlanGrid rounded up three biggest completed transactions in Dec.2018. Autodesk, Inc. acquired cloud-based software startup PlanGrid for $875M. Values of other completed transactions in December were substantially below this figure.
Announced Future Deals
Besides completed transactions, FirmoGraphs recorded over 40 announcements of future mergers and acquisitions. Few transactions with significant deal value were announced in Dec.2018. Among them, Greif's future acquisition of Caraustar Industries had the highest deal value of $1.8 billion. Also, it's worth mentioning that Federal Street Acquisition Corp. and Agiliti Health announced $1.740 billion worth merger.
Conclusion
FirmoGraphs watches North American industrial news and curates a normalized version of monthly merger and acquisition information. This way, you can leverage the Merger Mart along with others (such as Power, Water) to generate your own unique observations for the US industrial market.
Our favored BI solution, Qlik Sense™ Enterprise, makes mashing-up multiple data sets fun and easy. Our customers find new opportunities to grow revenue, and reduce risk, by combining the Merger Mart with their own proprietary CRM and market data.
Having a good understanding of customer M&A activities can be key to the health of your business. Click here to learn more.
Click here to learn more about applying BI to your approach in the North American merger and acquisition tracking in the US utility.
Click below to download our E-Book on 5 Critical Actions you can take to make your marketing more insight-driven, using Business Intelligence.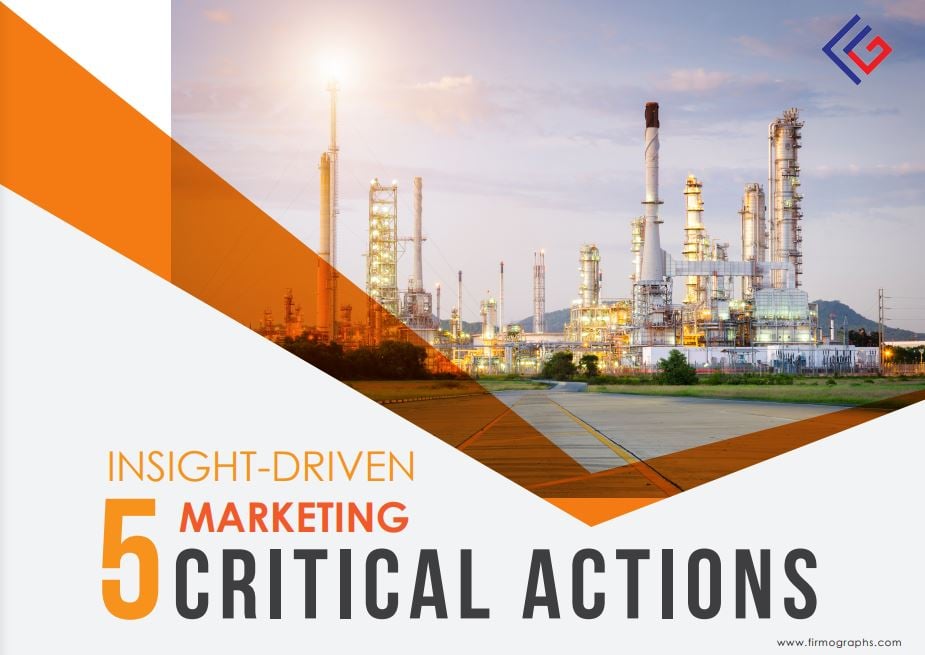 You might also want to read our blogs, FirmoGraphs North American Merger and Acquisition (M&A) Report, November 2018, FirmoGraphs North American Merger and Acquisition (M&A) Report, October 2018, M&A Data: Applying BI for Better Customer Relationships
Disclaimer
None of the information we provide may be taken as legal advice. Please consult an attorney if you require a legal interpretation of this information.

Any information contained on this website or within any attachments is offered without representation or warranty as to its accuracy or completeness and FirmoGraphs, LLC cannot be held responsible for loss or damage caused by errors, omission, misprints or your misinterpretation of such information. Seek competent professional advice prior to relying on or utilizing such information in any manner as any such use is at your own risk.